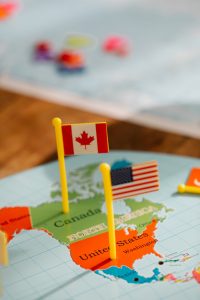 People who earn permanent residency in Canada can seek citizenship after staying in the country for at least three years in the five years before the citizenship application. Once they have obtained citizenship, they can come to the United States using the TN visa provided they have a legitimate employment offer from a US company in one of the approved occupations. The TN visa is valid for three years and can be extended. There is no restriction on how many times it may be renewed.
The procedure is quite simple. While the TN visa is valid, applicants may bring their spouse and children (under 21) to the United States. Dependent family members are eligible to apply for a TD visa. If the application is granted, the dependents will obtain an I-94 record identifying their length of stay in the United States, which is normally the same as the TN visa holder.
TD visa holders are not permitted to work in the United States, but they are permitted to study at US universities without the need for a student visa. The duration of stay can be extended if the dependents have a valid passport that extends beyond the duration of their stay, have not broken the terms of their stay in the United States, and have not committed a felony. The procedure of requesting an extension should begin at least 45 days before the I-94 record expires.
Can I Apply for a Green Card While Being on a TN Visa?
The TN visa does not permit dual entry. That implies you should not apply for a green card while you are on this visa. You can, however, apply for a US green card by changing your visa category to a non-immigrant category such as H-1 or L-1. They are visa categories with dual intent.
One might enter the country on the TN visa and then ask the company to sponsor them on the H-1 or L-1 visa. Another possibility is to return to Canada and apply for a US green card while being a Canadian citizen. In that scenario, your application will be handled in accordance with the priority date.
However, there is an exemption for American citizens born in Canada. They can apply for a green card by establishing their familial ancestry.
Can I Move to Canada So I Can Get a Green Card?
When it comes to green cards, Canadians are treated in most ways the same as any other immigrant to the United States. However, their ability to get some types of temporary visas, like the TN visa as we've mentioned above, may assist them in establishing a connection with a U.S. company eager to eventually sponsor them for a green card.
Do You Need Help Immigrating to Canada or the US?
All our cases are handled by competent and experienced immigration professionals who are affiliated with VisaPlace. These professionals consist of lawyers, licensed paralegals, and consultants who work for VisaPlace Legal an award-winning immigration firm that adheres to the highest standards of client service.
Have a Question related to your Immigration Needs?
Fill out the FREE Immigration Assessment form and get a response within 24 hours to see if you're eligible.
The assessment form should take approximately 5-7 minutes to complete. We will get back to you within one business day to let you know if we are able to help.